Regular price
Sale price
$1.99 USD
Unit price
per
Sale
Sold out
RA Cosmetics 100% African Black Soap is an ancient cosmetic cleansing product from West Africa. 
Handcrafted from farmed plantain (husk- ash), Shea Butter, Tree Bark, Pure Honey, and Coco Pods, RA African Black soap has been used in Africa for centuries mainly for its healing qualities.
RA African Black Soap helps various skin types from normal, oily, dry and problem skin – alleviating acne prone skin, rashes, razor bumps, eczema- to uneven complexions and irritated skin. 
Black soap naturally contains Vitamins A and E and Iron and is 100% Natural. RA Black Soap can be used all over the body, hair and face. Only a small amount is required as Black Soap lathers into bubbles quite quickly.
Directions for use:
Gently rub a reasonable amount of soap into a wash cloth and gently rub onto the skin's surface. After applying the soap rinse the body/face/ hair with warm water.
After drying your skin apply RA's Shea Butter, Cocoa Butter or Mango Butter to further hydrate and nourish your skin.

* Do not leave the soap in water as it has the tendency to melt
* Always cover your soap after use to avoid bacteria.
*** Please note for first time users** some people may experience a "tingling" sensation on the skin this is a normal occurrence with black soap as it clears away all dead skin and dirt from your skin's surface and should pass after a couple of washes. Leaving your skin smooth and clear after one wash!
Black soap, also known as Ose Dudu, Alata and Anago, can be used from head to toe. It has many therapeutic benefits.
Shop RA Bulk for the best prices!
Share
View full details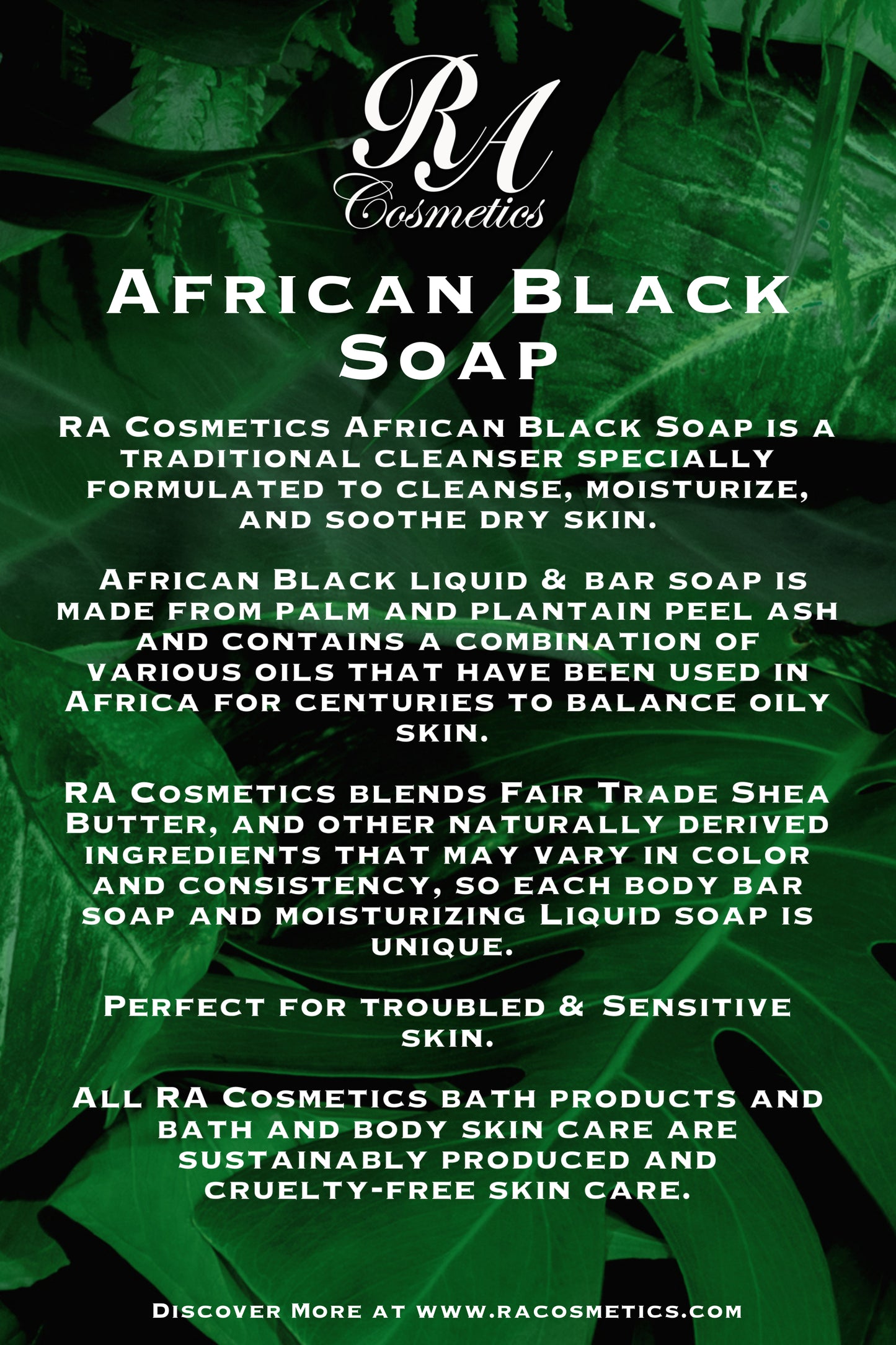 OUR RA Cosmetics STORY
RA Cosmetics is a family owned business providing for the care of your skin and hair since 2009. Our base of operation is Atlanta, GA, USA. From here we import, export, package and ship our RA Shea Butter and complimentary products.